It seems that every time a representative of the "Special Needs" Planning Group meets with a family to share information, we learn something new. As a result, we have collected a great deal of information that is useful to families with members with a disability. The following section contains summaries of some of those pieces of useful information. For a more extensive array of information, contact the "Special Needs" Planning Group.

Will Kits... Not the Answer for Families of People With Disabilities
Over the last few years, an alarming number of people have contacted The "Special Needs" Planning Group regarding the use of Will Kits. These Kits are advertised heavily on the radio at very low cost. The advertisements imply that a family can replace the use of a competent lawyer to complete their Will by simply filling in the blanks on the Will questionnaire. The concern of many lawyers is that these kits may not ask the right questions regarding planning for people with disabilities. Our examination of Will Kits has yet to uncover any questions concerning the Henson Trust or items relating to disability issues like the Ontario Disability Support Program. Therefore, we do not recommend the use of the Will Kits as part of the planning process for people with disabilities. Instead, we would recommend that people retain the services of a lawyer who specializes in or is very familiar with planning for people with disabilities.
As another point of note, people should not postpone completing their Wills simply because of not knowing the name of a Lawyer who specialize in this area. If you would like to receive a list of lawyers who are knowledgeable in this field, contact The "Special Needs" Planning Group and we would be happy to provide a list of several lawyers who you can interview to assess whether or not they meet your requirements.
This article outlines some of the concerns that Bob Aaron LL.B has regarding these Kits. ( PDF - Adobe Acrobat Reader required, get it here )
Grandparents Can Help!!!

Submitted by S. Treeby, the grandparent of a grandchild with "Special Needs". For more information about planning for the disabled grandchild, contact The "Special Needs" Planning Group at: (905) 640-8285 or (905) 898-2344 or in writing at: 70 Ivy Crescent, Stouffville, Ontario, L4A 5A9.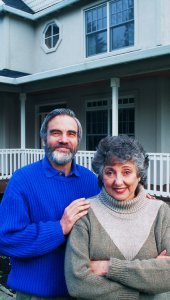 Does one of your children have a child with "Special Needs"? As Grandparents, we often set up our Wills so that our grandchildren will share in our money after we have gone. In most situations, this works out to be a means of providing a legacy to our grandchildren but when a child with special needs is involved, our sincere generosity can turn out to be a nightmare for the very child that we intend to help.
Our problems start with the fact that our grandchildren with special needs receive supports from the provincial government. These supports are provided by the Ministry of Community and Social Services through the Ontario Disability Support Program. The ODSP is only available to people over age 18 who do not have money of their own. Currently, if an individual has liquid assets in excess of $5,000, they are not eligible for the monthly disability cheque, the drug card, the dental card or other government programs. Therefore, when we leave money to these special people, it can in fact terminate their entitlement to the ODSP and other government support. Money left to enhance the quality of life that our grandchildren could, in reality, reduce their well being by terminating their ODSP benefits.
Through the use of appropriate planning techniques, we grandparents can have the Peace of Mind of knowing that our grandchild with special needs will always have the quality of life that they deserve. The most commonly used vehicle is the Discretionary Trust in conjunction with various funding techniques. A Discretionary Trust, which is often created in a Will and funded from the grandparents' estate, will protect our grandchild's entitlement to the government income programs. The Discretionary Trust is a specially worded trust agreement that is added to our Will and which is designed to allow us to give our grandchild with special needs a "little bit extra" to enhance their quality of life without disentitling them from the ODSP benefits.
The "Special Needs" Planning Group was especially established with the purpose of assisting families in providing a future of financial security for their Children or Grandchildren with special needs without disentitling them from ODSP benefits and other Government programs. The founders of The "Special Needs" Planning Group have dedicated more than ten years to the creation of plans to provide for people with "Special Needs". If you are concerned about providing a gift to the grandchild with special needs in your life, give them a call for a free, personal consultation.
They can be reached at (905) 640-8285 or by writing to:
The "Special Needs" Planning Group,
70 Ivy Cres. Stouffville,
Ontario,
L4A 5A9
PST Rebate for the Disabled

Submitted by The "Special Needs" Planning Group from an article by Peter Boultby
Program Terminated in the May 2004 Ontario Budget
Friends and family of disabled persons should be aware of the tax incentives available for the purchase of products meant to enhance mobility or the quality of life. The most noteworthy of these is the Ontario exemption from retail sales tax for the purchase of a van or automobile for the transportation of a disabled person, to a maximum of $2400 for a van and $1600 for any other vehicle.
The vehicle may be purchased by a family member or by the disabled person directly, with special features installed to facilitate driving. Similar modifications to existing vehicles, to make them driveable or to add wheelchair lifts or ramps etc., also qualify for the exemption. Under this program, the person must have a permanent disability which is a defined term and essentially means that one is deprived of the use of an arm or leg, most of normal vision or is permanently confined to a wheelchair, braces crutches, etc. It is important to note here that the vehicle need not be modified in any way to qualify. Many people may not be aware of this program, especially if the purchase is made by a family member and the purpose is not readily apparent.
Documents must be submitted to the Ministry of Finance in support of the claim. Unfortunately, no such program exists under the Goods and Services Tax, although there is an exemption for the purchase of an "auxiliary driving control" for use in a vehicle by a disabled person.
There are a myriad of other medical items and aids, too numerous to mention here, which qualify for exemption from both retail sales tax and the GST. It is likely that a supplier of these items would be aware of the exemption available but the list is quite extensive and includes aids to locomotion, access ramps and the usual medical devices that one would expect would be exempt. Do not pay retail sales tax or GST on any items of this nature without specifically enquiring as to the availability of any exemption.
For further information regarding the Provincial Sales Tax Credit, call The Ontario Ministry of Finance in Oshawa at (905) 433-5844 or visit the Ministry of Finance web site
Now People With Disabilities Can Save for the Future!
In some circumstances, people with disabilities who are receiving ODSP benefits are concerned with what happens when they reach age 65. They realize that they will be removed from the ODSP program and their income will be replaced by the Old Age Security and Income Supplement programs. This means that they will no longer be regulated by the Ontario Government with respect to their assets and incomes and that the rigid $5,000 liquid asset test will no longer apply.
The problem is that throughout their lifetimes, they have not been allowed to save money over the $5,000 level; or have they??? Under the ODSP Regulations that came into effect on June 1, 1998, people with a disability who are receiving benefits are allowed to own a "Life Insurance Policy" with up to a maximum of $100,000 of cash surrender value. Graeme Treeby is the recipient of a letter from the Honourable John Baird, the then Minister of Community and Social Services. In that letter, Mr. Baird states "Under ODSP, the cash surrender value of a life insurance policy is exempt as an asset, up to $100,000 per benefit unit. Since a segregated fund is considered to be life insurance under the Insurance Act, it would be exempt as an asset up to the $100,000 Maximum." This means that people with a disability are allowed to accumulate up to $100,000 in a Segregated Fund and still qualify for ODSP benefits.
Once they reach age 65 and benefits are no longer available under the ODSP, then they can begin to enhance their lives by spending the money contained in the Segregated Fund. This may be a useful vehicle for many people with disabilities who have the ability to save money. But what exactly is a Segregated Fund? Segregated Funds are and insurance product which is managed by a professional fund manager in a manner similar to mutual funds. As with mutual funds, an investor's money is pooled with the contributions of other investors to purchase a portfolio of securities. The value of the units purchased is based on the value of the securities and will change in response to market conditions. A Segregated Fund also can offer additional benefits like Maturity and Death Benefit guaranteed minimum payout amounts, Potential Creditor Protection and Probate Fee Exemption. For more information on Segregated Funds and how they relate to people with disabilities, contact Graeme Treeby at The "Special Needs" Planning Group.
Before You Apply for ODSP Benefits...
The process of applying for benefits under the Ontario Disability Support Program is often a difficult and frustrating exercise primarily because people don't know what to expect. People don't realize that even making a simple telephone enquiry may cause the opening of a file under your name or the name of the person with a disability and the nature of your enquiry can be used against you during the actual application process. Also, many people do not have their affairs and the affairs of their family members with a disability in order with respect to the requirements of the ODSP program before they set up initial contact with the ODSP office.
During the intake process, it has been my experience, that many questions are answered without careful consideration and in some cases, this leads to vital information being left out of the application. All of these difficulties can be avoided by preparing ahead of time. This is when a meeting with a Planning Professional can save you hours of additional work and heartache. The Planning Professional can help you sort out the affairs of the person with the disability, offer suggestions as to the wording of various responses to intake worker questions and generally put you mind at ease during the entire process.
Internet Links
Associations for Community Living
Community Living Ontario
Community Living Chatham-Kent
Barrie & District Association for Persons With Special Needs
Georgina Association for Community Living
Guelph Wellington Association for Community Living
Kenora Association for Community Living
Community Living Kawartha Lakes
Community Living Peterborough
Sioux Lookout and Husdon Association for Community Living
Community Living Association for South Simcoe
Community Living Wallaceburg
Community Living York South

Henson Trust Lawyers
Please contact me for lawyer referals.
Miscellaneous
Bob Rumball Association for the Deaf
Child Development Resources Peel
The Mills Community Support Corporation
Ontario Federation for Cerebral Palsy